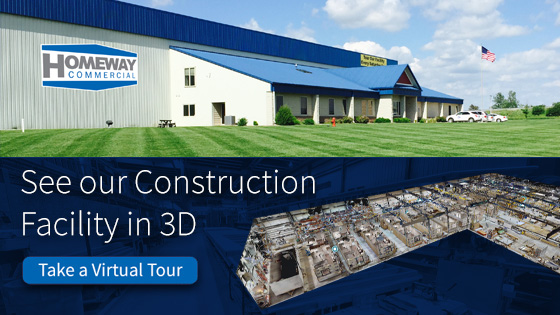 Homeway Commercial is the largest manufacturer of modular commercial buildings in Illinois. We got there by bringing four distinct advantages to the table: experience, high quality, faster construction time and competitive pricing.
Homeway Commercial can build your next modular commercial building, whether it is a hotel, multi-family housing, office building, school or student housing project on time and on budget. We start by listening to our client's ideas of what they desire their building to look like and how they want it to function. Our engineering department will then design the building around our client's ideas and according to any required building codes. Our engineering department uses computer aided design software to achieve the most structurally sound and mechanically efficient building that can be built. The final commercial building floorplans are not finished until our client is completely satisfied and approves every aspect of the building.
Not only does Homeway Commercial build modular buildings in our state-of-the-art Construction Facility but we also offer on-site project management services specific to the successful completion of each project. From concept to completion we can take care of every aspect of the construction project.
Homeway Commercial's modular construction technology combined with the on-site project management services offer results in a product that simply cannot be matched in quality and speed compared with conventional on-site construction.
Call us today and let us explain the advantages of the Homeway Commercial modular building system.